Posted by John Faustino, AIFA®, PPC®, Chief Product and Strategy Officer on February 08, 2018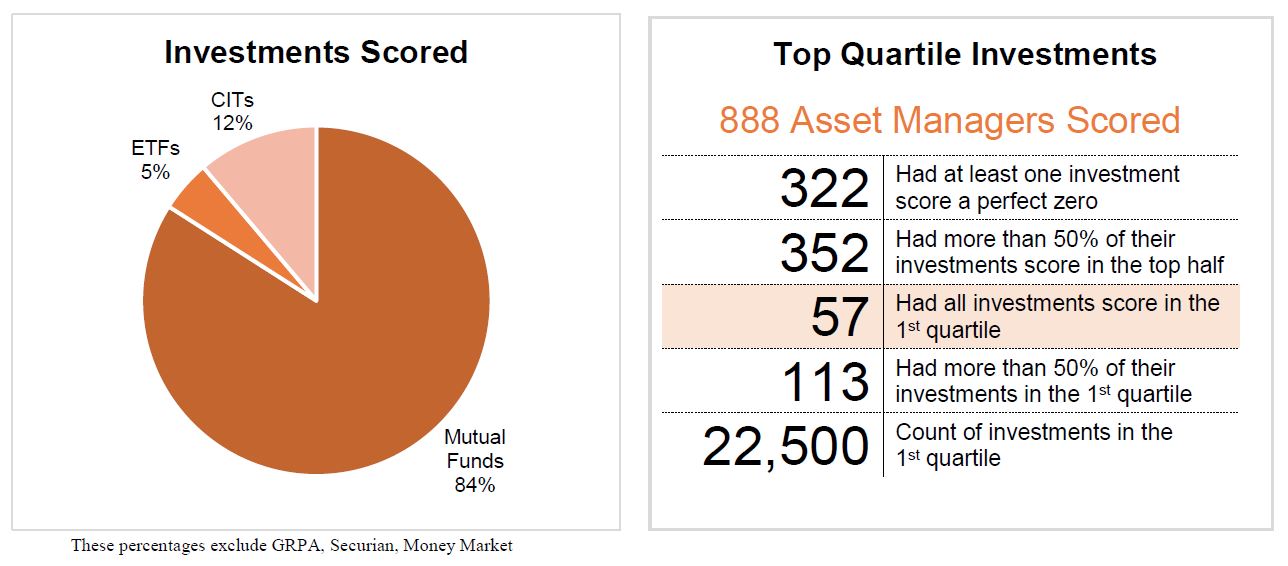 The latest Fi360 Top Quartile Report is now available for download! This quarter, over 78,000 investments were scored and 17 percent achieved the highest mark of a zero score, passing the scrutiny of nine rigorous filters. Investment selection and monitoring is an important fiduciary responsibility, and the Fi360 Fiduciary Score® has been designed to help the marketplace understand if funds are performing well from a fiduciary perspective.
Recent years have witnessed significant growth in CITs. As of Dec. 31, 2017, just over 30 percent, or 1,658 of 5,423, CITs in Morningstar's database have less than three years of history. With target date CITs, the trend of new issuances has been even stronger. 790 of the 2,014 target date CITs in Morningstar's universe have less than three years of history; a whopping 39 percent! As 2018 starts, there's no sign of this trend slowing down. 30 CITs show-up in Morningstar's CIT database with inception dates of Jan. 1-3, 2018; with 24 of those target-date offerings. One of the challenges created by these new issuances is delays in ratings/rankings availability (none of the CITs with less than three years of history receive an Fi360 Fiduciary Score®). We're exploring solutions to facilitate advisor due-diligence of new share classes added to existing funds.
Advisors use the Fi360 Fiduciary Score® to cull down their investment lists; asset managers use the scores to improve their investments and market results. Since 2003, the Fi360 Asset Manager Ranking Report has scored asset managers based on the percentage of their individual investments that received a top Fi360 Fiduciary Score®. Within this new report, we'll bring more unique information for you to consider about asset managers landing in the top two quartiles.
Helping enable you to profitably implement prudent fiduciary practices is our passion. We will continue to monitor our score criteria and methodology - looking for ways to raise the bar.
Q4 2017 snapshot of the numbers


Interested in seeing the full Q4 2017 Top Quartile Report? Fill out this form.