Posted by Robin Green on November 10, 2017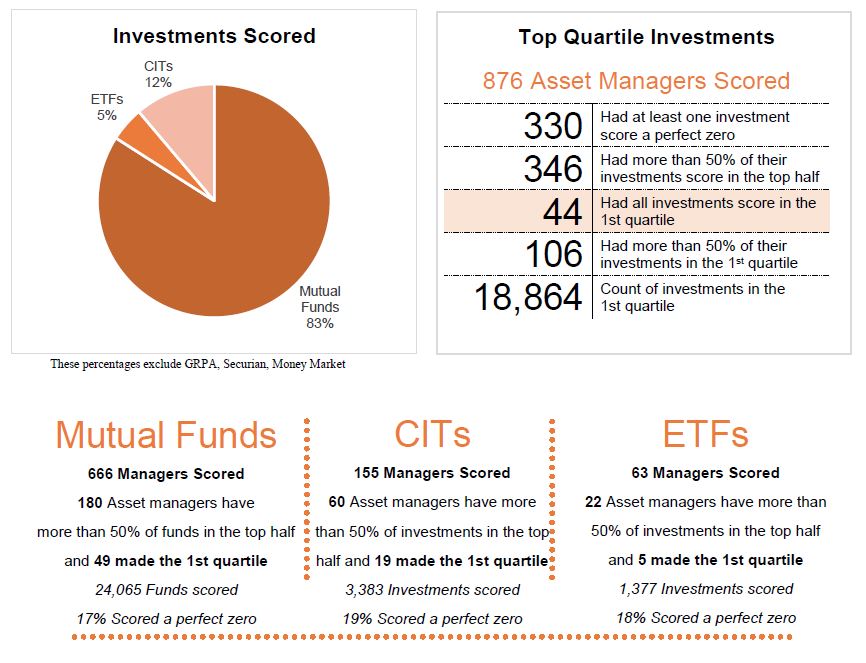 This quarter, over 66,000 investments were scored and 17 percent achieved the highest mark of a zero score, passing the scrutiny of nine rigorous filters. Investment selection and monitoring is an important fiduciary responsibility, and the Fi360 Fiduciary Score® has been designed to help the marketplace understand if funds are performing well from a fiduciary perspective.
We are pleased to see a diverse set of asset managers with investments in the top two quartiles of the Fi360 Fiduciary Score®. These firms are consistently scoring well in 11 categories; two categories are "eliminators", and nine others may generate points. Like golf, earning fewer points is the goal! Firms who rank in the top two quartiles adhere to meaningful fiduciary standards.
In addition to overall asset manager rankings, in this quarterly report we are looking closer at fund families with R share classes focused on the retirement plan market. While we score all mutual funds, for this special report we added a section with the top 25 Defined Contribution Investment Only (DCIO) providers based on assets in R shares. We'll provide this focused view of R shares on an annual basis.
A snapshot of this quarters numbers is included below. Be sure to check out the full Top Quartile Report for all of the most recent rankings. See you next quarter!