Posted by Bennett Aikin on November 21, 2013
The second Prudent Practice is about the importance of following governing documents. Governing documents set the context and provide direction for how fiduciaries and service providers are to carry out their obligations. Most significantly on the investment side, the investment policy statement is a governing document providing direction for the management of investment decisions. Fiduciaries must follow the governing documents unless doing so would create a conflict with the governing laws and regulations. Let's take a look at the Practice and the corresponding criteria: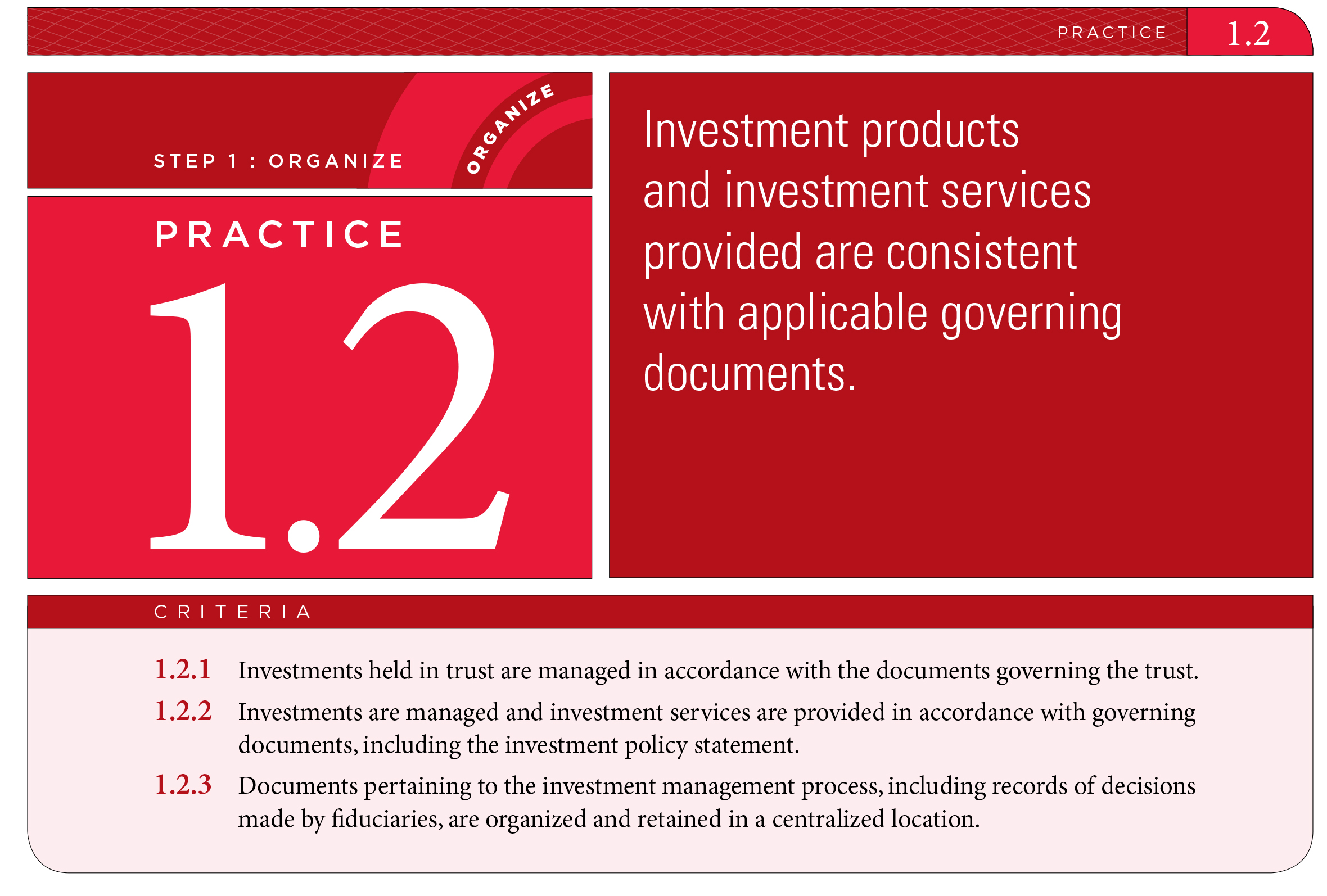 The starting point for the investment advisor in fulfilling this Practice is to collect, analyze, and review the relevant documents pertaining to the establishment and management of the client's investments. They should reveal definitive client goals and objectives as well as key factors that will impact investment management recommendations and actions of the advisor.
In addition to those core documents to the plan, the documentation that is created as a matter of course must also be collected and retained. These documents serve as proof that the investment process is being carried out appropriately and provide context for how and why certain investment decisions were made. This ongoing collection of documentation is consistent with "books and records" rules established by the SEC and state securities regulators for registered investment advisers.
A best practice for advisors is to create a fiduciary file to organize all the necessary documentation. We recommend the following documents, at a minimum, be part of that file, be reviewed for consistency, not be in conflict with other fiduciary obligations, and be carried out consistently:
Disclosure documents, such as form Disclosure documents, such as Form ADV, Part 2 and FINRA Form U-4
Marketing materials and advertisements, including the firm website
Client agreements
A copy of the investment policy statement
Written minutes and/or files from investment committee meetings
Applicable trust documents (including amendments)
Custodial and brokerage agreements
Service agreements with investment management and other vendors (custodian, money managers, investment consultant, actuary, accountant, and attorney)
Information on Investment Managers retained by the client or pension plan
Copies of current prospectuses for each mutual or exchange-traded fund, variable annuity and other investment products
Performance reports distributed by Investment
Manager(s) and/or custodian(s) that are retained by the client or plan
A quality 'spot' check of various forms of client communications, including newsletters, follow-up correspondence after client meetings, specific written (and email) responses to client questions, etc.
In the case of a foundation or endowment, documentation of the intent of a donor
For more information on fiduciary documentation, check out the following resources:
fi360's Prudent Practices handbooks. These handbooks define and elaborate on the Practices that are the subject of this blog post and the Spotlight on Practices series. At the end of each Practice in the handbook, you will find citations to the various legal codes where the requirements that substantiate a Practice can be found.
fi360 provides samples and templates of some of the documents you need in your fiduciary file.
IPS AdvisorPro, a technology solution for building and managing client investment policy statements
* * * * *
Editor's Note: This post was originally published in December 2009. It has been updated to reflect the 2013 update to the Prudent Practices. The Spotlight on Practices series highlights each of the Prudent Practices for Investment Fiduciaries. To learn more about the Practices, click "Spotlight on Practices" link in the categories list or visit the Practices section on fi360.com. If you have any questions or comments, leave them in the comments section below each post, or email us at blog@fi360.com.