What is CEFEX® Certification?
CEFEX® assesses and certifies financial service firms as conforming to fiduciary best practices and required standards detailed by the Prudent Practices®. Certified firms voluntarily submit their business practices to an annual assessment conducted by a CEFEX® Analyst who holds the AIFA® Designation. The assessment typically includes document review, client file sampling, on-site visits (if possible) and interviews with senior representatives at the firm.
Explanation of the Assessment Process
CEFEX® assessments are based on ISO standards and typically include a document review, client file sampling, site visit(s) and interviews with senior management.
The scope of the assessment is determined by the size of the client organization, the complexity of its management system, products and processes. The assessment is reviewed by the CEFEX® Registration Committee before earning CEFEX® certification. Annual renewal assessments are completed following a similar process.
Benefits of CEFEX® Certification
Increase trust with clients by voluntarily adhering to an objective, third-party assessment of your organization's culture, practices and procedures.

Gain recognition and deepen relationships as a fiduciary expert with individual and institutional clients, industry professionals and regulators.

Win new business with independent validation of your organization's fiduciary expertise and commitment to operating in your clients' best interests.
Join an elite group of certified organizations who are raising the bar by adopting professional standards that unequivocally put individual and institutional clients first.
Show your commitment to cybersecurity best practices by having the measures you have in place assessed against the Cybersecurity Program Best Practices set forth by the Department of Labor (DOL). Learn more about this optional add-on.
Learn More by Accessing these Resources
Report
Achieving Fiduciary Excellence
Get data and insights from the recent assessment of 139 CEFEX-certified advisory firms. You will find detailed insight into the prudent practices, policies and procedures that guide every aspect of the advisor-client relationship, as well as the operational strategies that drive lasting success.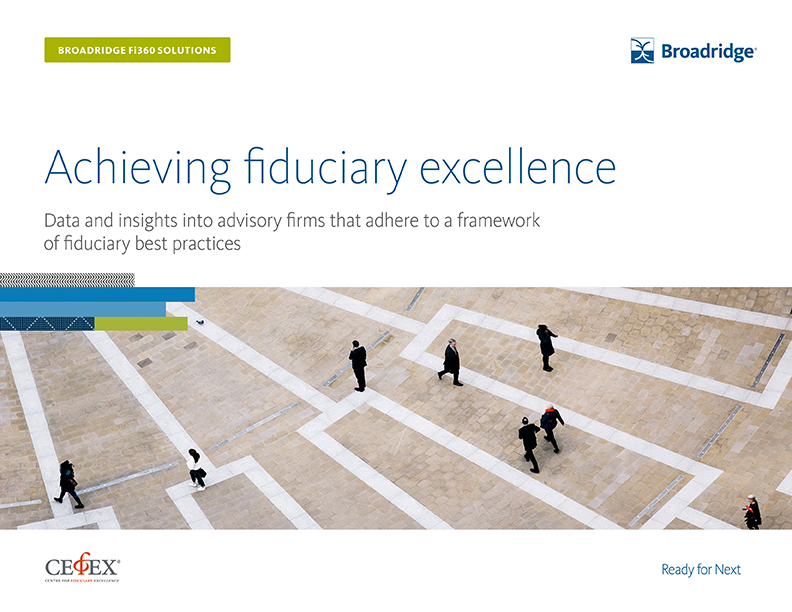 What CEFEX® Clients are Saying
"Savant Capital has integrated CEFEX® into our market positioning and our company culture since original certification. Fiduciary excellence is essential to our client and the CEFEX® mark has helped us win new business."
- Brent Brodeski, CEO | Savant Capital, Rockford, IL
Case Studies
Growing Assets and Boosting Reputation

Client Discussion on the Benefits to TPAs and Recordkeepers

Recordkeeper Grows Advisor Network
Video Testimonial
Listen as David Bromelkamp, President and CEO of Allodium Investment Consultants describes how CEFEX certification provides his firm with third-party validation that their operational approach is disciplined, structured, and based on fiduciary best practices.
Discover Your Firm's CEFEX® Certification Readiness
Get a sense for how ready your firm may be to go through the full CEFEX® certification process. Based on your firm type, click on the image below to get a preliminary indication for how well your firm follows fiduciary standards.
Contact Us
To learn more about the CEFEX® certification and how your firm can get started, fill out the form below and a representative will be in touch.