Proven
Fiduciary Processes.
You know putting your clients' best interests first isn't just good behavior, it's good business. Combining Fi360's Prudent Practices, flexible advisor controls and elegant reporting, the Fiduciary Focus Toolkit™ drives superior client outcomes, enabling you to achieve better business results.
Best Practices,
Built In.
Prudent Practices® for Financial Advisors has been the foundation for everything we do as a company since 1999. You can have confidence that our software has the gold standard of prudent fiduciary processes built right in, so that you can spend more time focused on building your business.
Formalize your process
The new Fi360 (software) is a perfect example of how we blend personal service and smarter technology to help our clients.
Advisory Practice Enabling.
Automation through our software helps you comfortably and efficiently implement a prudent investment process for all of your clients. The toolkit supports efforts across client engagement activities, saving your practice time and money.
IMPLEMENT YOUR INVESTMENT PROCESS
Win and Retain More Business
Fi360 is dedicated to helping you win new clients while better supporting and retaining the business you already have. You can quickly generate professional reports that will resonate with clients and prospects alike.


Seamless Data Integrations
Import your wealth and retirement plan accounts accurately and efficiently through our integration partners.
Meet Our Integration Partners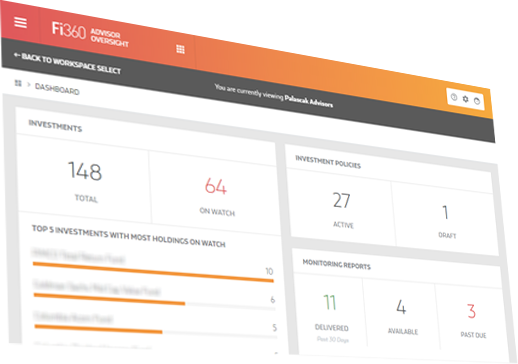 Reduce Enterprise Liability
Home offices and OSJ's are challenged with controlling and monitoring advisors in the field without a consistent and prudent investment process. Through the Fiduciary Focus Toolkit, Fi360 empowers firms to enact guardrails and monitor advisor activity against prudent investment practices, so they can feel more confident in allowing a larger number of advisors to act as fiduciaries.
LEARN MORE ABOUT ADVISOR OVERSIGHT