2017 AIF® Classes:
Miami, FL - Jan. 26, 2017
Scottsdale, AZ - Feb. 23, 2017
San Francisco, CA - Mar. 23, 2017
New York, NY - Mar. 23, 2017
Chicago, IL - Mar. 23, 2017
Philadelphia, PA - Apr. - 6, 2017
Nashville, TN - May 20, 2017
St. Paul, MN - June 8, 2017
Denver, CO - June 15
Pittsburgh, PA - July 13, 2017
Seattle, WA - July 27, 2017
Boston, MA - Aug. 17, 2017
Atlanta, GA - Sept. 14, 2017
Washington, D.C. - Sept. 26, 2017
Columbus, OH - Oct. 3, 2017
Hartford, CT - Oct. 19, 2017
Irvine, CA - Nov. 9, 2017
Austin, TX, - Dec. 7, 2017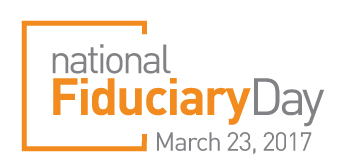 Manage Assets with Distinction
Did you know that as much as 80 percent of the nation's liquid, investable wealth is managed by trustees and investment committees? With the changing regulatory environment, now is the time to demonstrate your commitment to your clients' best interests and position yourself for this incredible marketplace opportunity.
Join our distinguished community in one of three cities on March 23, 2017 for the first annual National
Fiduciary Day!
About AIF® Designation Training
Our training provides a comprehensive education on fiduciary standards of care, including the legal and regulatory requirements for managing investment decisions on behalf of others. Practical aspects of applying a prudent investment process are covered from start to finish.
AIF® Capstone
The AIF® Capstone is a hybrid course consisting of the AIF Self-Paced Online training followed by a one-day, instructor-led classroom session. The instructor-led portion consists of 6-8 hours of classroom instruction
(view course outline). The online component is available for 180 days from date of purchase.
At the conclusion of the training, participants will have the opportunity to take the AIF examination. Students who successfully complete the program and final exam become eligible for the Accredited Investment Fiduciary® (AIF®) professional designation.
Now is the time to put your clients' best interests first. Get started today!
For additional information contact us at (866) 390-5080.