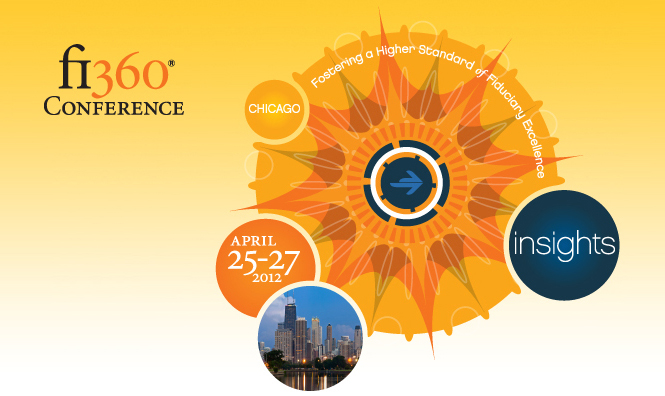 Thanks to everyone who attended the 2012 Fi360 Conference in Chicago!
View snapshots of attendees, speakers, and staff enjoying all the educational and networking events the conference had to offer in our online photo gallery.
The below speakers appeared at the 2012 Fi360 Conference. A detailed agenda with slotted dates and times for all conference events can be downloaded here. Most of these sessions were recorded and are available for download by AIF and AIFA designees via the Designee Portal. If you have any questions, please email conference@fi360.com.
---
GENERAL SESSION SPEAKERS
---
Speaker: Justin Fox
Topic: The Myth of the Rational Market: A History of Risk, Reward, and Delusion on Wall Street
Description: One of the many factors that led to the financial crisis was the widely held assumption that markets behave rationally. If markets are rational, how come they are prone to disastrous crashes? Why aren't markets able to react to forecasted problems before they happen, like rational entities should? Justin Fox takes square aim at the concept of market rationality and explains how this theory grew from academic theory to preeminent investor dogma. Fox combines business history, economics, and politics into a narrative that is more like a Hollywood thriller than a University textbook. His address will show the audience how the financial crisis was not a short term lapse, but a long term process, and what that knowledge means for the obligations and practices of investment fiduciaries. One of America's most trusted business journalists, Fox reveals market rationality for what it is: a hopeful myth.

Download speaker bio

Download slides
---
Speaker: Doris Kearns Goodwin
Topic: Team of Rivals: The Leadership Lessons from Abraham Lincoln
Description: In a presentation based on her longtime best-selling book Team of Rivals: The Political Genius of Abraham Lincoln, award-winning historian Doris Kearns Goodwin provides audiences with object lessons in leadership, political economy and successful strategy, courtesy of one of history's most compelling personalities. Sorely underestimated as both an effective orator and leader, Abraham Lincoln surprised both his colleagues and critics as he rose to political prominence. But what's even more surprising was his ability to surround himself with a coalition of supporters made up almost entirely of men who had been both his political enemies and enemies of each other. Lincoln carefully navigated this "team of rivals" to achieve not only political success, but also victory in the Civil War. Carefully analyzing Lincoln's political acumen, Goodwin extracts kernels of wisdom about leadership, building and maintaining teams in the midst of trying circumstances and overcoming obstacles on the path towards your goal.

Download speaker bio
---
Speakers: Blaine Aikin and Rich Lynch
Topic: Welcome and state of the industry address
Description: Introductory remarks and state of the industry address from Fi360.

Download speaker bio
---
MASTER'S TRACK SESSIONS
---
The Master's Track is a new feature at the 2012 Fi360 Conference. There will be one Master's session available during each breakout time slot. The sessions have been developed for audience members who already have basic knowledge of fiduciary standards of care and how they apply to the specific topic being covered and are looking for more advanced content. These sessions are open to all conference attendees. The sessions and speakers on the Master's Track were selected in consultation with a committee of practitioners from Fi360's membership who have attended previous Fi360 conferences.
---
Speaker: Bert Carmody
Topic: Now that the Cows have Left the Barn - One Fiduciary Practitioner's Perspective of Current ERISA and Plan Related Litigation
Description: ERISA litigation has been very visible and active over the last several years. This presentation goes beneath the obvious cases and settlements and applies the outcomes to enhance the fiduciary performance of the plan sponsor and advisor fiduciary. ERISA litigation has been very visible and active over the last several years. This presentation goes beneath the obvious cases and settlements and applies the outcomes to enhance the fiduciary performance of the plan sponsor and advisor fiduciary. The subject area is legal with a strong focus towards practical applications.

Download speaker bio

Download slides
---
Speaker: Gary Davis
Topic:Running the Risk: Wisdom Gathered from our Compliance and Risk Verifications
Description:Conferences often feature a session on "Surviving a Regulatory Examination." The session then feeds into the fear that advisers have about death, taxes, and the inevitable audit. But for some advisers, audits are not scary at all. Rather, they are a routine part of doing business in this highly-regulated area. Join Gary Davis, Vice President of Practice Management for MarketCounsel, for a discussion on what makes these firms different from the rest. Gary brings a perspective from virtually every role within advisory firms and now, in assessing and verifying regulatory compliance readiness for MarketCounsel's member firms.

Download speaker bio

Download slides
---
Speaker: Greg Kasten and Ary Rosenbaum
Topic: 3(38) Fiduciary Versus 3(21) Fiduciary: What Are the Real Duties and Risks?
Description: During this session Ary Rosenbaum of The Rosenbaum Law Firm P.C. and Dr. Gregory Kasten, President & CEO of Unified Trust Company, N.A. will discuss the roles, responsibilities, and liabilities of an ERISA 3(38) versus a 3(21) fiduciary, which will include:
Plan Sponsor fiduciary duties and the market demand for independent fiduciary consulting
The real duties of a 3(21) fiduciary and a 3(38) fiduciary
Proper delegation, appointment and hiring of a 3(38) manager
Understanding the implications of DOL manager due diligence criteria used in the Tower Asset Management litigation
The investment management process with a 3(21) fiduciary and a 3(38) fiduciary
The status and role of a Trustee
We will review a business model and case study as a 3(38) investment manager
Working with a discretionary trustee as a 3(38) manager


Download speaker bio

Download slides
---
Speaker: Ed Lynch, Lynne McAuley, Raelene LaPlante, Charles Humphrey, and Terrance Power
Topic: Understanding MEPs: How to Properly Utilize Them in Your Advisory Practice
Description: MEPPs (Multiple Employer Pension Plans) are becoming popular with small plan sponsors. This session will discuss how to prudently select a MEPP and the value of a MEPP certification process for the small business plan sponsor. Panel includes legal, regulatory, and investment experts.

Download speaker bio

Download slides

Download supplemental materials
---
Speaker: Richard Michaud
Topic: Demystifying Black-Litterman Optimization
Description: Markowitz mean-variance (MV) optimization has been the theoretical standard for defining portfolio optimality for more than half a century. However, MV optimization is unstable and often difficult to manage in practice. Black and Litterman (BL) (1992) propose to solve the problem of instability with a simple procedure that produces a single optimal portfolio based solely on an assumed market portfolio and active views.
We show that the BL solution is a single point on an unconstrained MV frontier that is often uninvestable due to large leveraged or short allocations. Furthermore any portfolio near this one point quickly exhibits all the usual instability limitations of MV optimization. BL use an input "tuning" parameter to produce a sign-constrained optimal portfolio. We compare constrained BL optimality to MV and Michaud's Resampled Efficient Frontier™ optimization for a simple data set and demonstrate that Michaud optimality provides more intuitive, better diversified risk managed portfolios under exactly the same conditions. Essentially BL solve the estimation error problems of MV optimality by ignoring them. BL popularity is likely due more to simplicity of the procedure than investment considerations.

Download speaker bio

Download slides
---
Speaker: G. Michael Phillips and James Chong
Topic: Downside Beta and Controlling Risk
Description: Based on our recent publications in the Journal of Wealth Management and the Journal of Personal Finance, this session will illustrate how CAPM Beta can be seriously misleading. Beginning with an illustration of 39 mutual funds with nearly identical Alphas and Betas, but quite different downside risk exposures, the talk continues to discuss the use of downside Beta in investment policy statements and as a threshold variable for portfolio creation. The presentation concludes comparing resulting portfolios to popular "Fama-French 3 Factor" portfolios and low volatility portfolios.

Download speaker bio

Download slides
---
Speaker: Ron Rhoades
Topic: Understanding the Distinctions: Suitability vs. Fiduciary; Compliance vs. Fiduciary Culture
Description: In a world potentially migrating to "new uniform fiduciary standards," what additional due diligence and other requirements will financial advisors face while moving from a rules-based fiduciary regime to a fiduciary regime? Why is adopting a "fiduciary culture" so different from meeting compliance obligations? Professor Rhoades explores recent decisions, proposed rules and emerging trends.

Download speaker bio

Download slides
---
Speaker: Rob Wrubel
Topic: Special Needs Planning
Description: This session targets financial professionals providing planning and investment advice to families with a disabled member. This is often an "invisible" group to planners. Poorly given advice can result in the loss of tens or even hundreds of thousands of dollars of public benefits. Poor advice could result in the loss of professional licenses and increased lawsuits for individuals and companies in the financial services industry. Join Rob to understand three key areas to consider when working with special needs families: potential government benefits, preserving those benefits, and key issues in managing special needs trusts.

Download speaker bio

Download slides
---
BREAKOUT SESSIONS
---
Speaker: Steve Athanassie
Topic:From Foundations to Retirement Income: A Different Take on Spending Policies
Description:Today's volatile markets are forcing both families and foundations to reassess their spending. Traditional spending policies may not be adequate. This session focuses on the importance of spending policies and how an advanced approach can be applied to foundations and in the creation of a sustainable retirement income for individuals.

Download speaker bio

Download slides
---
Speaker: Glen Bayless
Topic:Specialty Marketing with AIF
Description:This session is geared toward those who would like to use their AIF designation to expand their practice into the professional athlete, entertainer, and/or family office marketplace. We'll explore the inner-workings of financial decisions in these circles and how your AIF designation could help you get through those closed doors.

Download speaker bio

Download slides
---
Speakers: Gery Blackburn
Topic:The Share Class Conundrum
Description: When the retail share class of the mutual fund you want to provide your plan participants has a higher expense ratio with generous revenue shares that net out to be lower than the institutional share class which pays no revenue share, which one do you choose? The answer, as in many cases is, "That depends." The session will address the issues and analysis we went through to choose what we believe to be the best alternative for the participants.

Download speaker bio

Download slides
---
Speakers: David Blanchett
Topic:Making Retirement Income Work
Description:This presentation will explore sustainable withdrawal strategies and provide insight into how to make retirement income "work" for your clients. A variety of topics will be discussed, such as overlaying life expectancy on traditional Monte Carlo simulations, the impact of varying assumptions on sustainable portfolios, the risk of self-insuring longevity risk and some potential solutions, methods to reduce the impact of sequence risk, distribution asset allocation strategies, and why "risk" is more than just the probability of failure.

Download speaker bio

Download slides
---
Speaker: Christopher Carosa
Topic:How to Create a 21st Century Investment Policy Statement
Description: Is your investment policy statement still living in the 1980s? Recent research in the field of behavioral economics challenges some long-believed industry adages. Learn how both professors and practitioners address these issues within the context of the 9 key elements of an investment policy statement.

Download speaker bio

Download slides
---
Speaker: Richard Carpenter
Topic:Considerations When Recommending a TPA
Description: Richard will describe the benefits of an advisor's due diligence when selecting TPA partners. This process can assist advisors in deflecting fiduciary responsibilities.

Download speaker bio

Download slides
---
Speaker: Jeff Clevelan
Topic:Economic Update and Outlook
Description: They say you never care about your home's plumbing.until it matters. The same is true of the global financial system. Understanding the Global Financial Plumbing - and how it impacts investment, borrowing, and economic activity - is more important than ever before. This presentation will take the audience on a guided tour of the global financial plumbing and the world economy.

Download speaker bio

Download slides
---
Speaker: Blaine Aikin, Kristina Fausti Broumand, Clark Blackman, Kevin Wiggins, and Bob Burns
Topic: The Evolution of Fi360's Prudent Practices
Description: As laws, regulations, and industry standards evolve, so to must the prudent practices that investment decision makers employ. During this panel discussion, members of the Fi360 team will discuss the periodic review process that Fi360 undertakes to ensure the Practices reflect the most current legal and regulatory requirements. In addition, the panel will highlight the most recent updates that have been made to the Practices and the Fi360 handbooks to assist advisors and stewards with fulfilling their fiduciary responsibilities.

Download speaker bio
---
Speaker: Barry Flagg
Topic:Applying Fiduciary Principles to the Last, Largest, Most Neglected Asset on Your Client's Balance Sheet
Description:Costs inside life insurance policies vary by as much as 80% and if you don't know what is being charged, then your good planning can be at the mercy of a bad product. This presentation shows how to measure what clients are actually being charged.

Download speaker bio

Download slides
---
Speakers: Mario Giganti
Topic:Selling the Fiduciary Assessment
Description:This session will describe the actual experience of using a professional sales team to sell fiduciary assessments.

Download speaker bio

Download slides
---
Speaker: Dave Gray
Topic: Bridging the Gap Between Sponsor and Participants
Description: Recent surveys commissioned by Schwab in partnership with CFO Research Services and Koski Research Services suggest that 401(k) plan sponsors and participants are feeling different pain points. The data suggest that the way sponsors plan to address their pain points might make participant pain points even worse.

Using key study data, we will provide recommendations to address the pain points on both sides - and identify some opportunities to support or even improve retirement readiness.

Download speaker bio

Download slides
---
Speaker: Liza Horvath
Topic:Drafting and Implementing Investment Policies for Non-Profit Endowments
Description:Accepting fiduciary responsibility for endowment funds helps insulate the non-profit board and can help money managers build their book of business. Drafting appropriate policies and implementing a prudent investment strategy can make you a leader in the non-profit endowment management field.

Download speaker bio

Download slides
---
Speaker: Tom Kmak
Topic: Benchmarking: Lessons Learned Over the Past 2 Years
Description: On July 2 of 2012, it is estimated that 2.4 million 408(b)(2) disclosures will be sent to plan fiduciaries. These disclosures are the beginning of a process to help these plan fiduciaries determine if the fees being paid to their various service providers are reasonable. In fact, the 408(b)(2) "final-final" regulation mentions the word "reasonable" or "reasonableness" 49 times. Clearly these disclosures are not the end, they are only the beginning.
As the trusted advisor for the plan, many of these named fiduciaries are looking to you to help them determine if the fees they are paying are reasonable per the ERISA requirement under section 404(a)(1)(a). And basically, you have two choices to help your clients make that determination: benchmarking or going to RFP/RFI.
This session will focus on benchmarking and all that FBi has learned over the past 30 months from benchmarking thousands and thousands of actual plans using real data. The session will include best practices related to the retention of revenue, reduction of expense and management of risk related to this important fiduciary duty.

Download speaker bio

Download slides
---
Speaker: Rose Panico-Marino
Topic:Finding the Right Solutions for Your Clients
Description:Advisors need to develop relationships with their clients that enhance the overall client experience when it comes to their retirement plan. So what should advisors be doing to not only attract but also retain their clients.

Download speaker bio

Download slides
---
Speaker: Terry Power, Mike Montgomery, and Ary Rosenbaum
Topic: Multiple Employer Plan Developments
Description: 2011 was a watershed year for Multiple Employer Plans with ASPPA alerts, Fred Reish White Papers, and advisors wondering where they all fit into the mix. The use of MEPs in a post-408(b)(2) implementation world coupled with changes in the Fiduciary Standard impacting advisors will be discussed.

Download speaker bio

Download slides
---
Speaker: Scott Reed and Mike Clayborne
Topic: The Value of Fiduciary Certification for Foundations
Description: There are community foundations all over the country with billions of dollars in assets to be managed. Community foundations have a unique need for Fiduciary Certification. The challenge, as well as the opportunity, is that most don't know it yet. The CREATE Foundation of North Mississippi is a 50+ million dollar community foundation that has the unique distinction of being the first CEFEX certified community foundation in the United States. In this session Scott Reed will provide a case study of the CREATE Foundation from the initial selection of Hardy Reed as their advisor through the successful conclusion of the certification process. Mike Clayborne, executive director of CREATE Foundation, will be on hand to give his perspective on the CEFEX certification process and its effect on their fundraising efforts. There will be plenty of time for Q & A and, of course, Scott will introduce another blues song to add to the list of Fiduciary Greatest Hits of the last three Fi360 Conferences.

Download speaker bio
---
Speaker: Fred Reish
Topic: 'After' 408(b)(2): Benchmarking Reasonableness
Description: Everyone has been focusing on the need to make 408(b)(2) disclosures. However, shortly after the conference, the July 1 deadline will have come and gone. At that point, the burden will have switched from the service provider to the plan sponsor in its capacity as a fiduciary. The "burden" is that fiduciaries must determine the reasonableness of the compensation and services of their providers, including the advisers. The two most common ways of doing that are through a competitive bidding process and a benchmarking service. The session will discuss the legal and practical aspects of determining reasonableness and the most significant changes in the final regulation that impact RIAs.

Download speaker bio

Download slides
---
Speaker: Fred Reish
Topic: The Fiduciary Re-Proposal: The New Definition and Its Consequences
Description: The DOL has announced its intention to re-propose the regulation defining fiduciary investment advice. This session will discuss the state of the potential re-proposal at the time of the conference and how it may impact the major categories of service providers.

Download speaker bio

Download slides
---
Speaker: Knut Rostad
Topic: The Current State of a Broker Fiduciary Standard under Dodd-Frank
Description: This session will discuss the current state of a broker fiduciary standard under Dodd-Frank, including the latest developments and the Act's implications for investors, brokers, and the independent advisory industry. Knut will address the latest developments, key issues, and likely outcomes in both SEC and DOL rule-making, plus offering his views about what the future holds for investors and investment professionals alike.
Download speaker bio

Download slides
---
Speaker: Mike Skrypnek
Topic:How values conversations can change your relationships
Description: Investigating the integration of values conversations pertaining to philanthropic interests with clients and customers in your role as fiduciary. Opening up opportunities for financial management, planning and philanthropy in your investment advisory practice.

Download speaker bio

Download slides
---
Speaker: Matt Sommer and Greg Kasten
Topic: Innovative QDIA Plan Design Can Improve Participant Retirement Readiness
Description: The Problem: Most participants in 401(k) plans will not be able to retire with adequate income replacement. Very few 401(k) plans follow the time tested principles of defined benefit plan management best practices.

Typical 401(k) participants do not have an income goal to replace their paycheck, know how much they need to save, how to invest, what changes they should make to their account over time, or whether they are on track to retire successfully.

Many plan sponsors and participants are underestimating the risks of their QDIA, particularly in the fixed income segment. This presentation looks at the new fixed income landscape and why participants cannot afford volatility from this portion of their portfolio.

The Solution: Matt Sommer, Director & Senior Retirement Specialist for Janus and Dr. Gregory Kasten, Founder & CEO of Unified Trust Company will each present their QDIA solution to the issue of 'Participant Retirement Readiness.'

Download speaker bio

Download slides
---
Speaker: Gary Sutherland, Jason Roberts, and Katie Umile
Topic: Developing a strategy as a 3(38) advisers
Description: Specific for advisers who are acting, or considering acting, as a 3(38) fiduciaries. With an expert panel from the marketing, legal, and insurance fields, the session will address how to market yourself as a 3(38) fiduciary and the legal and insurance considerations which you need to be aware of.

Download speaker bio

Download slides
---
Speaker: Marcia Wagner and Jerry Kalish
Topic:Moving Beyond 401(k): Developing A Defined Benefit Advisory Practice
Description:While 401(k) plans continue to be the focus of the investment community, there are over 26,000 defined benefit pension plans that need help. Defined benefit plan sponsors face an unprecedented array of difficult and complicated regulatory, fiduciary, financial, and investment related issues. This session is for advisers who want to grow their retirement plan practices by going beyond 401(k) plans to take advantage of the advisory opportunities that are available in this under-served retirement plan market.

Download speaker bio

Download slides
---
Speaker: Kevin Wiggins
Topic:New Requirements for Participant Fee Disclosures
Description:In-depth review and analysis of new fee disclosure requirements to participants
Speaker: Fi360 Team
Topic: The Fi360 Fiduciary Score - Understanding how it works and who's using it
Description: This short informal session will cover the basics of the Fi360 Fiduciary Score calculation and how you can leverage the Score in your business. We'll start by fully describing the eleven criterion used to calculate the Score and how this process becomes the Fi360 Fiduciary Score and Fi360 Fiduciary Score Average. Lastly, we'll review how the Score is successfully being used within the industry from the viewpoints of a mutual fund company, TPA and advisor/broker.

Download speaker bio

Download slides

Download supplemental materials
---
Speaker: Fi360 Team
Topic: Building, utilizing and archiving model portfolios
Description: This short informal session will cover features within the enhanced My Models section of the Fi360 Toolkit. We'll start by building a brand new model portfolio using the Fi360 Asset Allocation Optimizer powered by New Frontier Advisors' patented Resampled Efficiency® process. We'll then convert this optimized model into an investment specific model. Lastly, we'll implement this Model within a Client and Proposal and track it over time as is required under new participant advice regulations.
---
Speaker: Fi360 Team
Topic: Improving your investment selection process with the Fi360 Investment Analyzer
Description: This short informal session will educate attendees on the Fi360 Investment Analyzer and how it is used to research and filter investments based on a multitude of screening factors. We'll start by reviewing the different factors and thresholds available. We'll then cover some time saving features such as saved searches and custom universes. We'll finish by generating a number of key reports that are available within the Fi360 Toolkit.
---
Speaker: Fi360 Team
Topic: Creating, tracking and implementing client proposals
Description: This short informal session will cover the Fi360 client proposal process from capturing the prospective lineup to converting them into an ongoing client. We'll start by entering the prospect into My Clients. Next, we'll cover the basics of creating a new proposal, mapping over the prospective lineup and recommending an alternative. Lastly, we'll review how to track the proposal's status and successfully convert a winning proposal into an ongoing client.