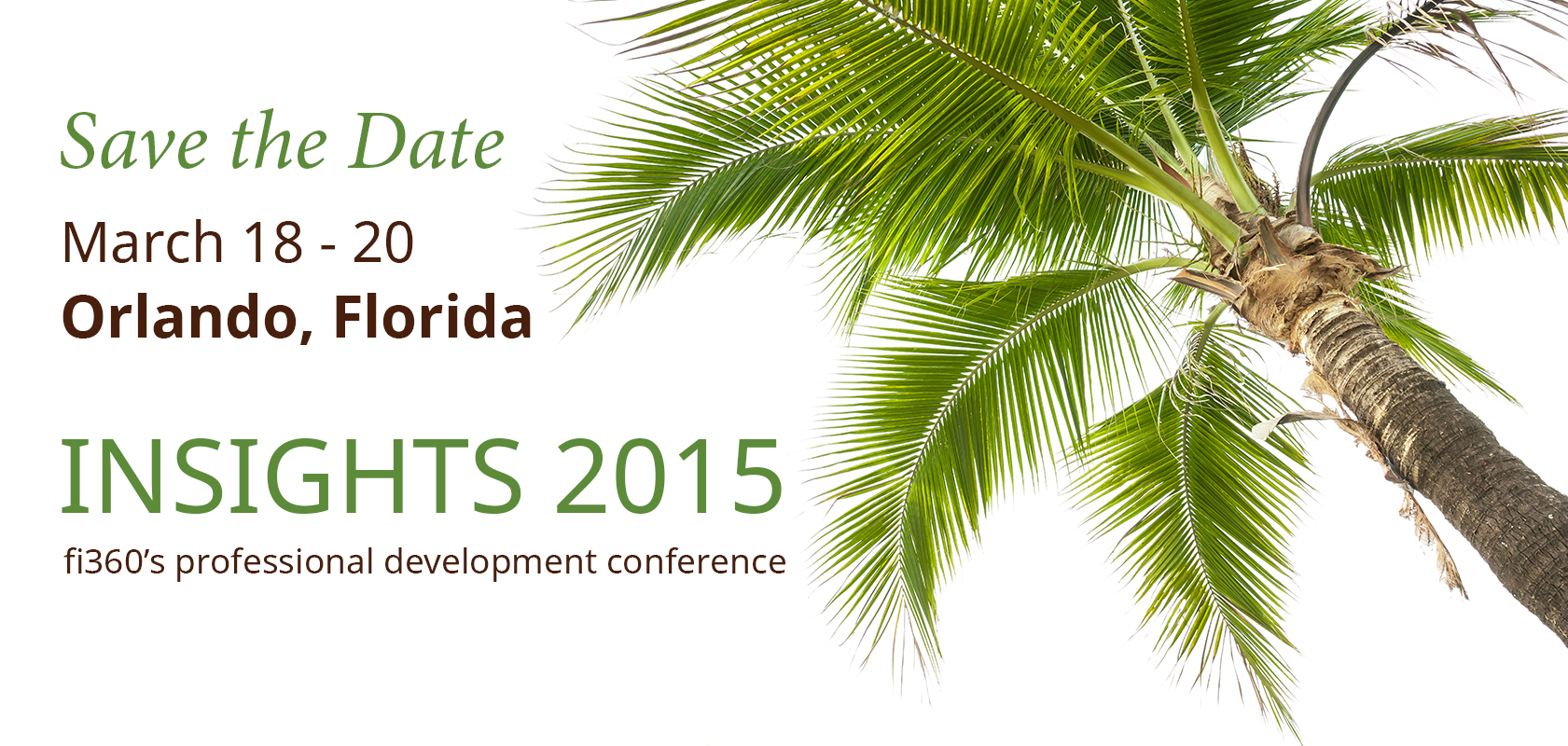 INSIGHTS 2015 is coming to the Orlando World Center Marriott in Orlando, FL! Mark your calendar. More information about the event, including pricing and registration, room block details, and pre-conference activities will be made available in the coming weeks. Registration opening soon.
If you're interested in speaking at the event, download and submit the proposal form.
Email us at conference@fi360.com with questions and to join our mailing list and stay up to date on conference news.
About the conference
Our audience typically includes a broad mix of industry professionals, including advisors, broker-dealers, managers, accountants, TPAs, financial planners, wholesalers, pension specialists, record-keepers, etc. Many attendees also carry other industry-leading credentials, such as the CPA, CLU, ChFC, IMCA, CFA, MBA, and JD. Nearly half of attendees are CFP certificants. This is the event for professionals dedicated to leading the way in fiduciary responsibility.
All fi360 Conference sessions qualify for CE credit for your AIF or AIFA designation. Attending the fi360 Conference should enable you to fulfill the entirety of those requirements. In addition, sessions are submitted for CE credit for other industry credentials, such as the CFP®, CPA and CIMA designations. Specific CE details for each conference will be posted for registrants when available.
Attendee Testimonials
"I really appreciate and value the fact that this is a working conference where we as professionals can explore issues with experts and peers to identify and rectify our weaknesses; not a sales pitch or self-congratulatory conference."
– Brian S. Lakkides, AIF
"Coming to conferences like this, learning from and networking with other fellow professionals keeps me on my game and really helps set me apart from my 'competition'."
– Francis Gillis, AIF
"What I like most about the fi360 Conference is the feeling that I am at a Mount Everest experience for fiduciary standards."
– J. David Strother, AIFA
"Excellent event: a must attend if you serve plan fiduciaries or if, as an investment advisor, you serve as a plan fiduciary."
"I am considering making a career change that will allow me to better implement my passion for fiduciary education. This conference was very motivating. Thank you for an outstanding program!"
"What I like most about the fi360 conference is that it is independent, objective and unbiased."
"As the leader of a community bank trust department, I benefited greatly from the ideas and expertise expressed at each session. Our department will quickly adopt and adapt many of the best practices and fiduciary processes introduced at this conference. We will focus on what is important to our clients and their stakeholders."
"Excellent presenters with rich content of relevant and practical knowledge and information."
"My first conference: excellent topics and speakers. I will attend more."
– Peter Recchin