About
Updated weekly
Have an idea for the Fi360 blog?
Send us your question or comment
to blog@fi360.com
Subscribe to the Fi360 Blog
In a reader
Stay Connected to Fi360
Categories
Popular Articles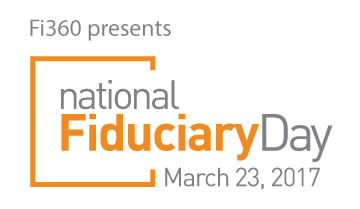 Posted by Fi360 on February 09, 2017 in
Fi360 introduces National Fiduciary Day on March 23. For the first time ever we will host simultaneous AIF training courses in New York, Chicago and San Francisco.
Posted by Fi360 on February 02, 2017 in Great Sources of Information
Blaine and Duane discuss the release of a second set of FAQs from the DOL on its Conflicts of Interest Rule.
Posted by Fi360 on January 12, 2017 in
Fi360 Fiduciary Talk 43: Titles used by advisers can trigger fiduciary status
Posted by on December 19, 2016 in
The AIF, is it a marketing tool?
Posted by fi360 AIFA Designee, Jason C. Roberts, Esq. on November 23, 2016 in Great Sources of Information
Immediately following the November 8th election, PRI released a Policy Brief describing potential impacts to the Department of Labor (DOL) Fiduciary Rule. This second brief contains updated information, as the situation and our understanding, continues to evolve.